Faculty Club Sophia Antipolis
Introduction
The Faculty Club Sophia Antipolis (10 apartments in the CROUS residence Isaac Newton in Sophia Antipolis) offers temporary housing for scientists, postdocs, PhD students and academic personnel. The studio apartments for maximum two guests include: fully equipped kitchen, own bathroom, TV, Wifi, housekeeping service, parking, all utilities included. Priority access to the Faculty Club apartments will be given to guests of UCA members benefiting from IDEX UCAJEDI funding and to medium term stays between 1 and 3 months. Stays will start on the 1st of each month only and will end on the 30th/31st.

Please request a reservation at the Faculty Club Sophia Antipolis using our online form below. If you'd like to stay at the Faculty Club Nice, please fill in the online reservation request for the Faculty Club Nice.
The Welcome Center UCA manages the assignment of 10 units as well as the billing and collection of rent on behalf of the CROUS. The building is managed by the CROUS Nice/Toulon. Due to the limited number of apartments, only PhD students, postdocs, researchers and unversity teachers will be admitted at the Faculty Club. Undergraduate, Master and MSc students, please contact the CROUS regarding student housing.
COVID-19
The COVD-19 pandemic health crisis is evolving and the rules in place might change regularly. Please check before your departure for France, if you have taken the necessary precautions and that you have all the required documents for your trip to France.

Please carefully read the information provided to travelers arriving in France provided by the French ministry of the interior, Campus France, the French government and the French Ministry for European and Foreign Affairs.

Depending on the country you are travelling from, you might need to observe an isolation period at your arrival in France, provide a negative PCR test and a vaccination certificate at your arrival in France. Please strictly adhere to the sanitary instructions provided by the CROUS. The CROUS currently offers the cleaning service twice per month. The frequency of the cleaning service might be adapted depending on the sanitary situation.

Rates
Rates applicable from March 2022 for Université Côte d'Azur guests:
| | | | | | | | |
| --- | --- | --- | --- | --- | --- | --- | --- |
| Type of Unit | Surface Area | Max. number of people | 1 month | 3 weeks | 2 weeks | 1 week | 1 night |
| T1 double | 22 m² | 2 | 450 € | 410 € | 360 € | 220 € | 53 € |
The rates include occupancy allowance and management fees.
The rate for one month applies to a reservation from the 1st to the 30/31 of the same month only. Rates for one, two or three weeks apply only for a stay within one calendar month. A stay spanning several month will be billed separately.
Priority: monthly stays from the 1st to the 30th/31st of each month
Miminum stay: one week, the nightly rate only applies to extensions of a stay depending on availbilities.
Maximul stay: three months
Due to the Covid-19 health crisis, the cleaning service is currently only provided twice a month. Fresh towels and sheets are provided every week.
It is prohibited to bring animals into the residence, except for service animals for people with disabilities.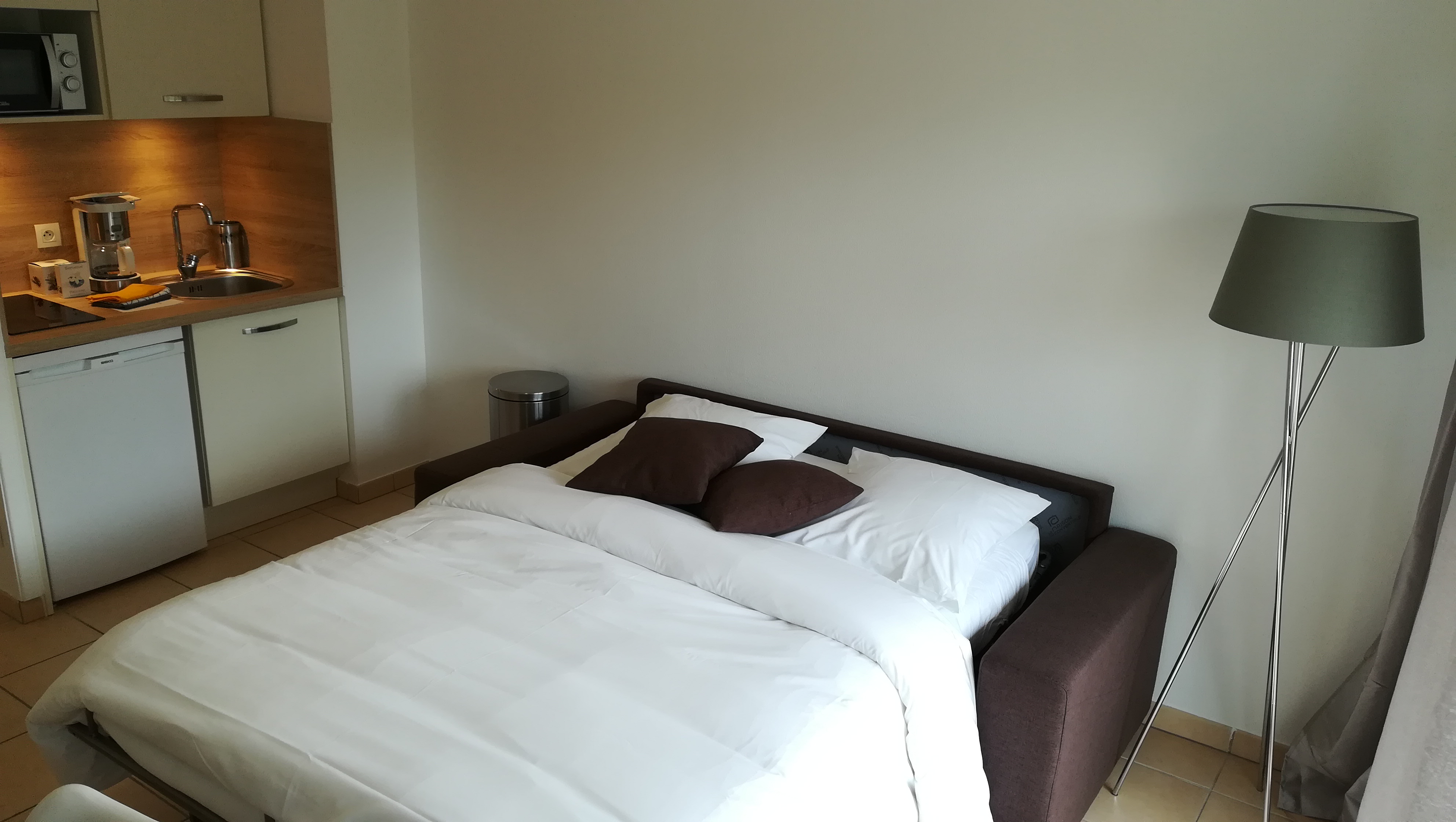 T1 double with balcony
Studio apartment with balcony, surface about 22m2 for up to two persons.
Rates

450€/month
410€/3 weeks
360€/2 weeks
220€/week
53€/additional night

The rates include all rental charges (electricity, heating, water, internet access).


Equipment and services

Furniture : 1 convertible sofa bed for 2 people (sheets), 1 desk with chair, additional chair or stool, 1 table, cupboard
Kitchen corner : sink, fridge, hotplate, dishes, micro-wave oven, electric coffee machine, electric kettle
Balcony with table and chairs, facing south/west
Secured, attributed parking spot in the basement
Bathroom : sink, shower, WC
TV, wifi
Bedsheets and towels
Free rental (against deposit of your ID)

Iron and ironing board
Cleaning material (vacuum cleaner incl.)

Washing machine and dryer on the ground floor (coins)
Late and weekend arrivals: you can withdraw yout keys using and electronic code when you arrive at the residences after hours.

Photos
Before completing the rental request form, please carefully read the instructions below regarding eligibility criteria and duration of the temporary housing.

The Faculty Club provides temporary housing to guests of UCA and its members. Priority access to the Faculty Club apartments will be given to guests of UCA members benefiting from IDEX UCAJEDI funding and to medium to long term rentals between 1 and 3 months. You need to take out rental insurance.

When to make your reservation request :
Rental requests between one and three months should be submitted as soon as possible. Please note: Monthly rentals will start on the 1st of each month only and end on the 30th/31st.
Short term rental requests between one week and one month can only be made less then two weeks prior to your stay at the faculty club. If apartments are available, short term rentals will be attributed two weeks prior to the stay only.
All rental requests need to be sent no later than 7 working days prior to the desired start of the stay in the Faculty Club. We might not be able to get back to you on shorter notice.
To determine priority access, please provide detailed information about the reasons for your visit. Please indicate the host institution and a local contact person, who can confirm your invitation for us to be able to consider your request
. All mandatory fields must be completed.
Please use the DD/MM/JJJJ format to indicate dates.
Attention for visitors, who will need a visa for their visit:
Before indicating the dates of your rental request, please make sure to take into consideration the time it will take the French consulate/embassy closest to your current place of residence to issue your visa. The Welcome Center might not be able to postpone your rental, if you need to reschedule your arrival and departure dates due to delays in the visa process.
Please note:
Upon request, the Welcome Center can provide a document certifying your reservation (and payment) at the Faculty Club for the visa application once we have confirmed the rental and received the first rental payment only.
Please also carefully read the general rental conditions and Faculty Club bylaws before sending your rental request.
General Rental Conditions - Faculty Club Bylaws

After sucessfully sending the form you will be redirected to a confirmation page. If this is not the case, please carefully check the information entered in each field and send the form again.