How does the French education system work?
School is free, secular and mandatory for children aged between 6 and 16 living in France. Some private schools are fee-based.
School starts in September and classes take place from Monday to Friday in the majority of private and public schools. Approximately every six weeks, and in July and August, students have vacation. Geographical areas (A, B, and C) according to academies, indicate when the students are on vacation in order to plan travel. Nice students are in zone B and will not have vacation at the same time as students living in Saint-Etienne (zone A).

Schedule of school vacations for zone B
The different school levels
Kindergarten (école maternelle): for children from age 3 to 6 and is not mandatory. This stage of schooling offers opportunities for initial development and socialization, and is therefore generally appreciated by parents.
Elementary or primary school (école élémentaire ou primaire): mandatory and welcomes children starting from 6 years old. Starting from this level children begin to read, write and count. There are different levels within the primary school: CP, CE1, CE2, CM1 et CM2.
Middle school (collège): follows the elementary stage and is mandatory. This level follows a successful CM2 year (from 11 to 12 years old) and begins with the sixième (sixth), initial year of middle school. The following school years moving forward are called "cinquième", "quatrième" and "troisième". At the end of the middle school cycle students pass an exam called the brevet des collèges which is obligatory for entry into high school.
High school (lycée): not mandatory, as students can stop their studies after obtaining the "brevet des collèges". The "seconde" class is the initial year in this cycle and offers general education. In the following class ("première") students must choose a specialty (literature, science, economics, etc.). In the last year ("terminale") students take the final exam called the "baccalauréat" which opens the doors to higher education in a university or private school.
Public or private?
Kindergarten to high school can be public or private. Public schools are free, unlike private schools where the number of places is often limited and tuition fees are required.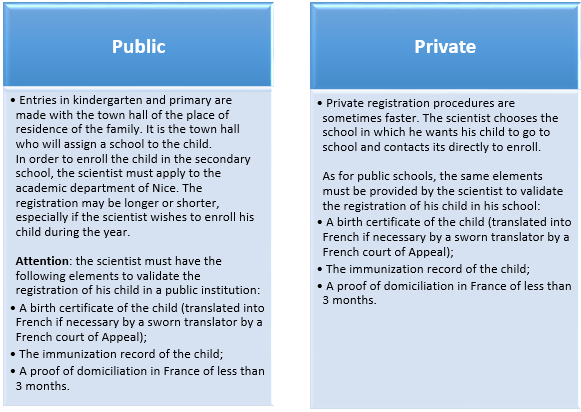 Do not hesitate to ask us about the private schools in Nice and the surrounding area.
International Schools
Do not hesitate to ask us to know the international schools in Nice and the surrounding area. Courses, mainly English-speaking, are taught there.
What are the associated expenses?
Although school is free for all students in public education, parents must still pay for school supplies. The same applies for the cafeteria lunch. Daycare and other extra-curricular activities are generally not free.

Transportation to and from school can come at a cost. Nice and its nearby towns offer preferential prices for students needing public transportation
Envibus also offers 5€ subscriptions during the school year for kindergarten and primary school children with its "PASS ÉCOLE".
Palmbus offers a year of unlimited transportation for 14 year olds. Once they reach 15, they must subscribe for the student pass or youth card (carte jeune) according to their needs. More information on prices.