Welcome to Université Côte d'Azur
The Welcome Center is a true point of entry for international researchers, doctoral students, research and teaching guests at Université Côte d'Azur and its partners.This service welcomes and accompanies researchers, doctoral students and teachers during their installation in France and aims to facilitate administrative procedures.

The Welcome Center informes, assists and offers personalized help to researchers, doctoral students and teachers at Université Côte d'Azur before and during their stay at the Côte d'Azur.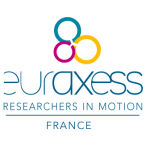 The Welcome Center is a member of the EURAXESS France network. The Welcome Center is one of the 44 EURAXESS centers in France. For personalized assistance with administrative procedures please

Register with the Welcome Center
Welcome Center
Maison de l'Etudiant
5 ave François Mitterrand
06300 NICE
Information and services to help you get settled on the Côte d'Azur
Key numbers
+ 480 international researchers welcomed
+ 6 500 personalized services rendered
+ 1 600 stays registered at the Faculty Club
Testimonials
Beatriz
Being welcomed by you, made things a lot easier. Thanks for all your support.
Lyes
Le Welcome Center nous a aidé à régler tous nos problèmes avec la préfecture, et nous a apporté une aide pratique et un soutien moral sans lesquels nous n'aurions pas pu avancer dans ce qui importe vraiment: nos travaux de thèse ! Merci !
Quang
Welcome Center has helped me a lot with housing and administrative procedures.
Useful links
General information - Welcome Guides

The following links provide more useful information to prepare your stay in France and help you settle in:

EURAXESS FRANCE is a member of the European Commission initiative, gathering more than 600 EURAXESS centres assisting EU and non-EU researchers in 42 countries.

You will find here all the necessary information for mobile researchers, and assistance with the support of our network of services centres. If you are looking for information about entry procedures, social security, legal issues, postdoctoral positions and research jobs, this website is for you!

You will also find the contact details of all the EURAXESS centres available in France, as well as information related to the entry and residence conditions on the French territory, accommodation and all you need to prepare a successful stay in the hexagon.

Consult and download the university's welcome guide for for international students at Université Côte d'Azur. Campus France awards the Bienvenue en France label to Université Côte d'Azur The University was given given 2 stars in recognition of the high-quality welcome offered to its international students

Welcome Guide Côte d'Azur is a joint initiative of the economic promotion agency Team Côte d'Azur and University Côte d'Azur

Welcome Guide Côte d'Azur assists you in your installation project. It provides updated administrative, economic, tourist, cultural and regional information. Welcome Guide Côte d'Azur provides you with all the official information you need to make your stay or installation a success.


Additional useful links

Some additional links to find information and connect with your fellow researchers at Université Côte d'Azur:
COVID-19 : International travel to France
The COVD-19 pandemic health crisis is evolving and the rules in place might change regularly. Please check before your departure for France, if you have taken the necessary precautions and that you have all the required documents for your trip to France.

Please carefully read the information provided to travelers arriving in France provided by the French ministry of the interior, Campus France, the French government and the French Ministry for European and Foreign Affairs.

Depending on the country you are travelling from, you might need to observe an isolation period at your arrival in France, provide a negative PCR test and a vaccination certificate at your arrival in France.