Opening all the opportunities of the blue world
Our 2-year interdisciplinary approach, combined with empowering immersion projects, allows you to become researchers, conservation specialists, environmental consultant, or entrepreneurs. Whatever your interests, you will become the open-minded specialist that our society needs to solve current and emerging ocean issues.

with MARRES you will

acquire high-level scientific knowledge
develop critical thinking & adopt the scientific approach in all circumstances

assess the current and emerging ocean-related challenges
assess the possible solutions according to the socio-economic context

contribute to wised decision-making, through environmental quality & impact analysis
adapt communication to a targeted audience

develop entrepreneurship skills
recognize and combine scientific, economic and social potential of marine resources

and become

Researcher in a private or public laboratory
Academic, University professor
Engineer

Conservation specialist
MPA manager
Science officer in an international or non-governmental organization
Environmental awareness / Ocean literacy

specialist in an environmental consultancy firm
environmental management specialist in a company free-lance
CSR specialist

science or development officer in an industrial company
start-up entrepreneur of the Blue Growth (Tourism, Food, Energy, Biotechnology...)
THE PROGRAM
COURSE CATALOGUE
The "Science & Society" track offers an innovative and interdisciplinary way to understanding the interdependencies between scientific, societal and economic aspects of the ocean.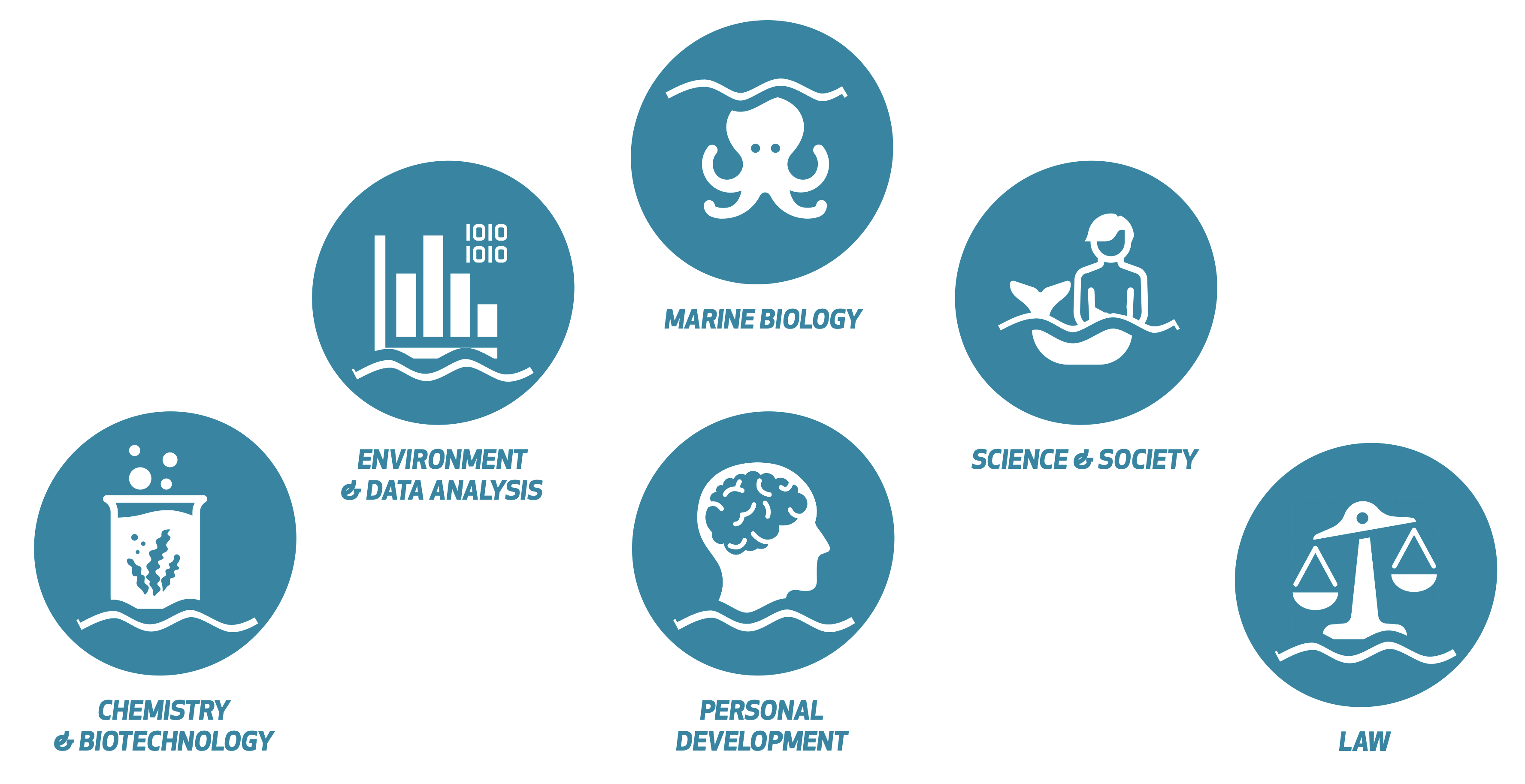 SCHEDULE

OUR HYBRID TEACHING STRATEGY
Our teaching modules are generally designed following a blended-learning approach articulated in learning blocks allowing students to prepare for their face-to-face interactions with instructors through prior asynchronous work.

generally composed of short video capsules, self-paced preparatory activities, and checkpoints for students to assess their learning progress.
Face-to-face interactions
thus reinforced and enriched by constructive exchanges in the form of recitation, workshops and discussions.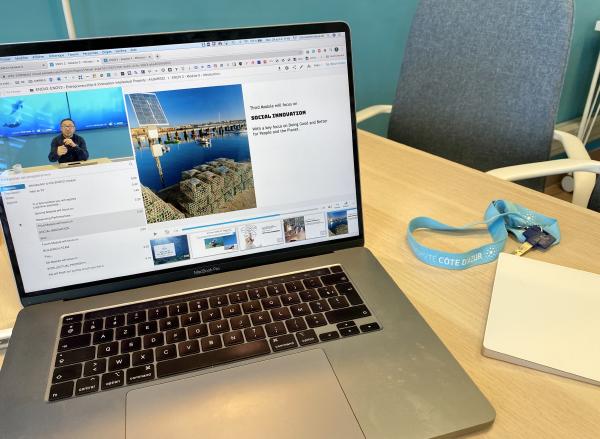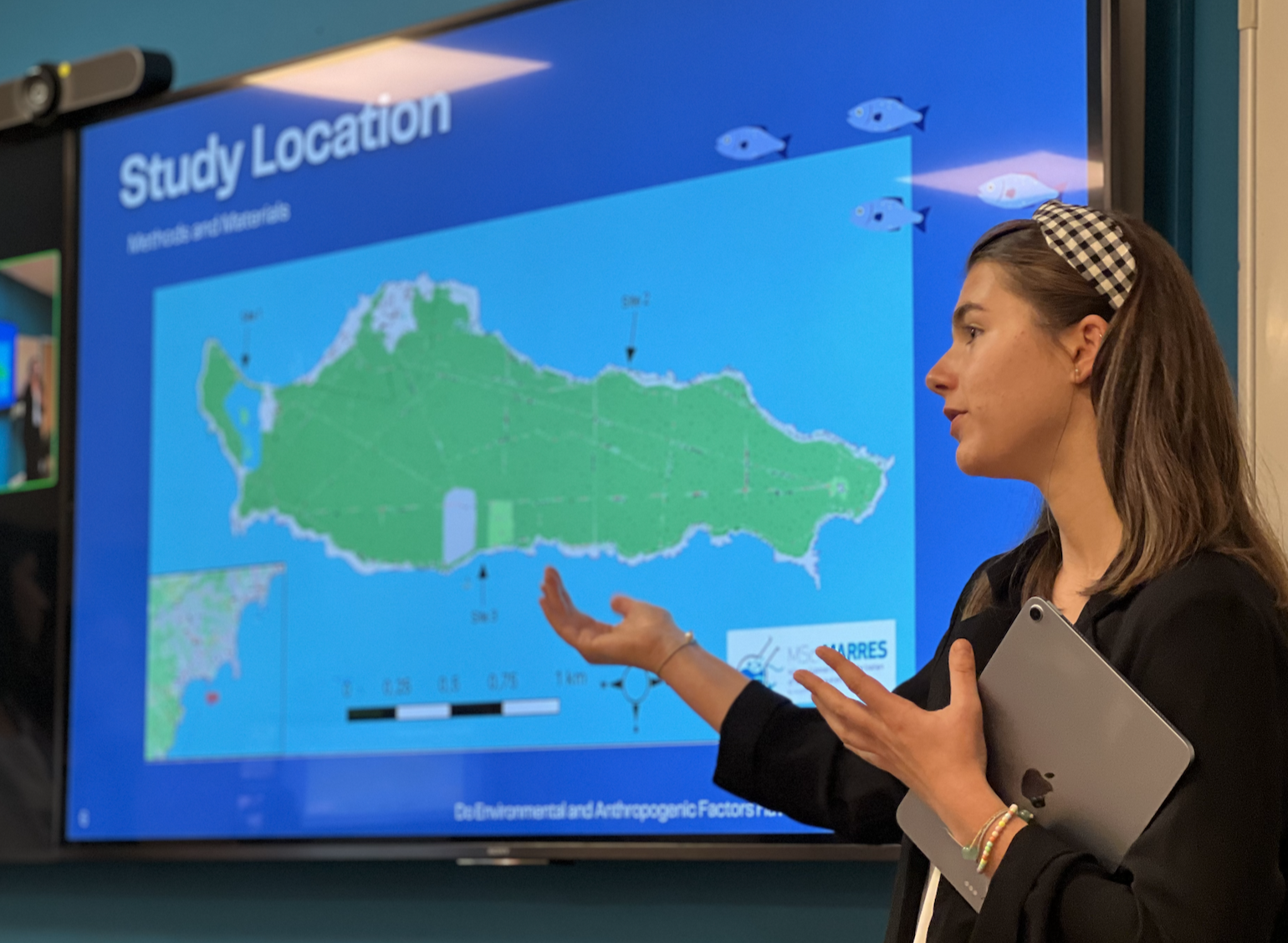 EXPERIENTIAL EDUCATION
LABS, FIELD TRIPS & WORKSHOPS
Practical works allow students to apply the knowledge and skills acquired in class, such as in environmental data analysis, marine biodiversity, conservation, ecotoxicology & biotechnology.

Lerins campaign

Plankton party

Ecotox lab

Biotech lab

Fisheries & Aquaculture road trip
IMMERSION PROJECTS
Our immersion projects connects the students together and with local and international professionals in science, conservation and/or entrepreneurship according to their career objectives. In short, the immersion projects encompass the 1st-year internships, but it's much more than that!

What is an immersion project?

PHASE 1: WARM UP
from semester 1, all Mondays are fully dedicated to prepare the Y1 internship with a coaching on project management and a peer-coaching from 2nd-year-students.
PHASE 2: Y1 INTERNSHIP
during 4 to 6 months Y1 students are 100% devoted to the project implementation thanks to preceding months of preparation.
PHASE 3: POLISH UP & COACH
In 2nd year, all mondays from September to December are dedicated to finish the work, preprare final reports deliverables and coach Y1 students

MORE ON IMMERSION PROJECTS examples of topics, student video pitch...
MASTER THESIS
The 4th semester is entirely dedicated to the master thesis, carried out in the form of a 6-month internship in a laboratory, an NGO or a company, or in the form of an entrepreneurial feasibility study. The students defend their thesis during the MARRES symposium that take place end of June.

MORE ABOUT THE MARRES EVENTS symposium, graduation ceremony, welcome week...
WATCH THE STUDENT PRESENTATIONS playlist of the public sessions