The objective of the Master of Science Biocontrol Solutions for Plant Health - MSc BOOST is to train students so they'll be able to conduct research programs and R&D of eco-friendly plant protection solutions.
On-line applications are now closed!
Application time: January to June 2024
The fall intake starts in September.
BOOST challenges
A major global challenge is to implement ecofriendly plant production technologies while minimizing the hazards and risks to human health and the environment. This challenge is faced by all economic sectors that produce or use plants: agriculture, agrifood, cosmetics, pharmaceutics.

BOOST key features
Training directly at the premises of Institut Sophia Agrobiotech,first laboratory on biocontrol in France.
Content in English provided by professors and researchers from Université Côte d'Azur (UCAJEDI) and invited experts.
Students acquire experience of teamwork by conducting mentored team-projects in professional situations: research projects, public-private collaborations, expertise, etc.in addition to long internships (4 to 6 months).
MSc BOOST benefits from a direct link with the fast growing biocontrol, biostimulants and plant breeding innovation sectors thanks to the large network of partners.
International Master's program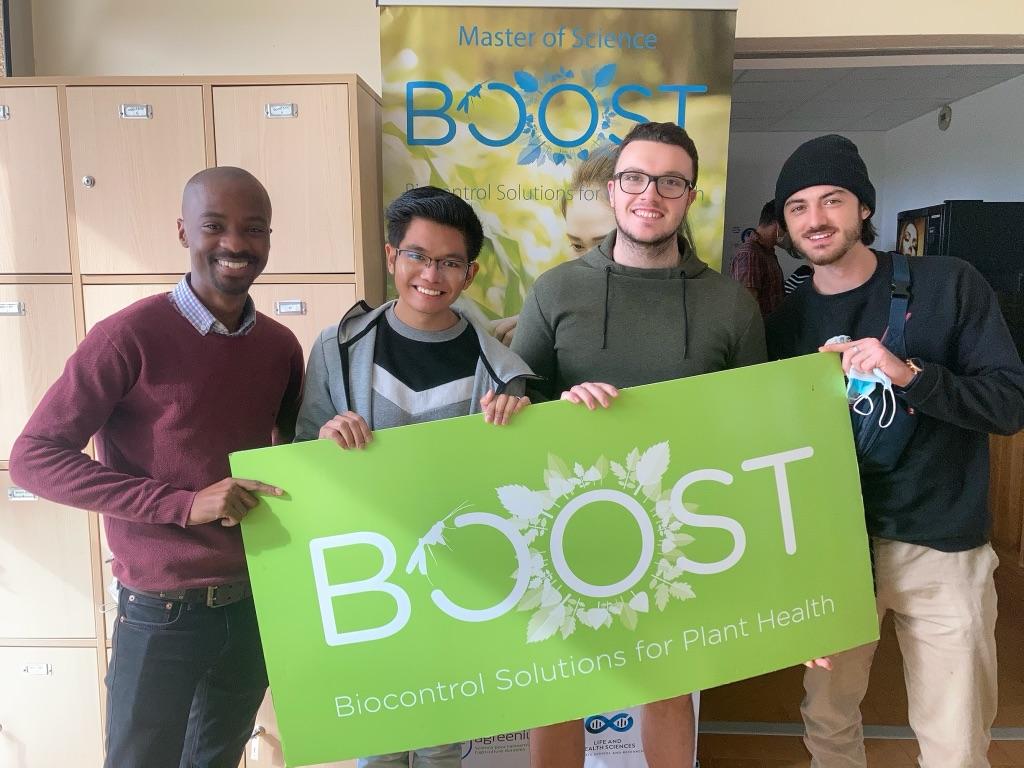 Chinese by Yongpan, PhD student at Institut Sophia Agrobiotech

欢迎参加MSc BOOST硕士项目

由于传统以化学防治为主的植保技术对人类健康和环境的危害风险较高,如今全球所有生产或使用植物的经济领域(如农业,食品,化妆品或药品等)都面临着重大挑战:环境友好型植物生物防治技术的开发。

通过与研究机构、私人合作伙伴的广泛合作,BOOST MSc项目在快速增长的生物控制和植物新型育种研究领域具有较强优势。

培训目的:训练硕士学生使其具备开展环境友好型农作物生物防治解决方案研究的能力。

培训地点:法国一流的生物防治实验室:ISA

培训人员:来自蔚蓝海岸大学(UCAJEDI)的教授和研究员。

培训时间:4至6个月的专业团队指导将使您获得丰富的经验。

Spanish keywords by Marielena, BOOST student - Class 2020-2021

El objetivo de la Maestría en Soluciones de Biocontrol para la salud y sanidad Vegetal (MSc
BOOST) es preparar a los estudiantes para que realizar programas de investigación en I&D
para soluciones fitosanitarias ecológicas.
Un actual desafío mundial importante es implementar tecnologías sustentables de
producción agrícola, minimizando al mismo tiempo los riesgos para la salud humana y el
medio ambiente. Este desafío lo enfrentan todos los sectores económicos que producen o
utilizan plantas: agricultura, agroalimentación, cosmética y farmacéutica.
- Formación en las instalaciones del Instituto Sophia Agrobiotech, primer laboratorio de
biocontrol en Francia.
- Contenido en inglés proporcionado por profesores e investigadores de la Université Côte
d'Azur (UCAJEDI) y expertos invitados.
- Los estudiantes adquieren experiencia de trabajo en equipo mediante la realización de
proyectos con mentores profesionales: proyectos de investigación, colaboraciones públicoprivadas,
etc. además de prácticas largas (de 4 a 6 meses).
- BOOST MSc tiene la ventaja de ser un vínculo directo con los sectores de innovación de
biocontrol, bioestimulantes y fitomejoramiento, gracias a la gran red de socios en el ramo.
Portuguese by Carlo, BOOST student - Class 2020-2021

O objetivo do mestrado em Controle Biológico em Proteção de Plantas (MSc BOOST) é treinar
estudantes para que eles sejam capazes de conduzir projetos sustentáveis de pesquisa em
proteção de plantas.
É um grande desafio mundial implementar tecnologias sustentáveis de proteção de plantas,
minimizando os riscos para saúde humana e ambiente. Esse desafio é enfrentado por todos
os setores que produzem plantas, agricultura, agroalimentar, farmacêutico e cosméticos.
- Treinamento direto nas premissas do Instituto Sophia Agrobiotech, o primeiro laboratório
em controle biológico na França.
- Conteudo em inglês, com professores e pesquisadores da Universidade Côte d`Azur
(UCAJEDI) e especialistas convidados.
- Os estudantes adquirem experiencia de trabalho em equipe conduzindo projetos orientados
em situações profissionais: projetos de pesquisa, parcerias publico-privadas, especialização,
além de estágios de longa duração (4 a 6 meses).
- O MSc BOOST se beneficia ainda de uma ligação com os setores inovadores e de rápido
crescimento de controle biológico, bioestimulante e melhoramento de plantas, gracas a uma
grande rede de parceiros.

French by Killian, BOOST student - Class 2020-2021

L'objectif du Master of Science BOOST - "Le Biocontrôle pour la santé des plantes" est d'habiliter les étudiants à diriger des programmes de recherches fondamentales et/ou de R&D dans les domaines de protection et santé des plantes.

Un des challenges principaux actuel est de réussir à implanter des technologies d'amélioration des rendements agricoles tout en préservant la santé des plantes et en minimisant les risques pour la santé et l'environnement.
Ce challenge est confronté par l'ensemble des secteurs économiques utilisant les plantes comme matière première : agriculture, agro-alimentaire, cosmétiques et pharmaceutiques.La formation se déroule directement dans les locaux de l'institut Sophia Agrobiotech, premier laboratoire de Biocontrôle en France.
Le contenu du programme est délivré en Anglais par des enseignants-chercheurs de l'université Côte d'Azur (UCAJEDI) ainsi que des experts invités spécialement pour l'occasion.
Les étudiants conduiront des projets mentorés dans une équipe avec une mise en situation professionnelle : cela comprendra des projets de recherches, des collaborations dans des domaines privés ou publics, des expertises scientifiques, etc... De plus, un long stage de 4 ou 6 mois devra être effectué en première et deuxième année afin d'améliorer les compétences de l'étudiant (travail d'équipe, etc.…).

Le MSC BOOST bénéficie d'un lien direct avec des secteurs en expansion comme le Biocontrôle, les Biostimulants ou la Reproduction des plantes. Tout ceci grâce à un large réseau de partenaires BOOST en perpétuelle croissance.
Filipino by Jerome, BOOST student - Class 2020-2021

Ang layunin ng Master of Science in Biocontrol Solutions for Plant Health (MSc BOOST) ay
hasain ang mga mag-aaral nang sa gayon ay magkaroon sila ng kakayahang magsimula ng mga
siyentipikong programang pananaliksik at makibahagi sa mga resulta't diskusyon ukol sa
pangangalaga ng mga halaman nang walang masamang dulot sa kapaligiran.
Isa sa mga hamong kinakaharap ng mundo ngayon ay ang pagpapatupad ng mga
teknolohiyang tumatakay sa pangangalaga ng mga halaman nang walang 'di kanais-nais na
dulot sa kapaligiran. Kaalinsabay ng hamon na ito ang pagsasa-alang-alang ng pagpapababa
ng posibleng masamang dulot nito hindi lamang sa kapaligiran, kundi pati na rin sa kalusugan.
Ang hamon na ito ay kinakaharap ng mga sektor ng ekonomiya na gumagawa o gumagamit
ng mga halaman; kabilang dito ang sektor ng agrikultura, agri-food, kosmetiko, at
pharmaceutics.
- Ang pagsasanay ay ginaganap mismo sa Institut Sophia Agrobiotech, ang kauna-unahang
laboratoryo patungkol sa Biocontrol sa Pransya.
- Ang kurso'y itinuturo gamit ang wikang Ingles. Kabilang sa mga guro ay ang mga iba't ibang
propesor at mananaliksik mula sa Université Côte d'Azur, pati na rin ang mga ibang
ekspertong maaaring paunlakan.
- Ang mga mag-aaral ay inaasahang makakuha ng karanasan sa mga pang-grupong gawain sa
pamamagitan ng mga mentored projects, mga proyektong isinasagawa sa propersyonal na
pamamaraan.
- Ang programang MSc BOOST ay nakatatanggap ng mga benepisyong hatid ng mga lumalawig
na sektor sa biocontrol, biostimulants, at plant breeding innovation. Lahat ng ito'y posible
dahil sa malawak koneksiyon sa iba't ibang mga kasosyo ng programa.

German

Das Ziel des MSc BOOST Programms ist es Studenten zur Durchführung von Forschungs- und Entwicklungsprojekten von umweltfreundlichen Pflanzenschutzlösungen auszubilden.

Eine große globale Herausforderung besteht darin, umweltfreundliche Technologien für die Pflanzenproduktion zu entwickeln und gleichzeitig die Gefahren und Risiken für die menschliche Gesundheit und die Umwelt auf ein Minimum zu reduzieren. Dieser Herausforderung stellen sich alle Wirtschaftsbereiche, die Pflanzen produzieren oder nutzen: Landwirtschaft, Agrarnahrungsmittel, Kosmetik und Pharmazie.

Die Schulung erfolgt direkt in den Räumlichkeiten des Institut Sophia Agrobiotech, dem führenden Labor für Biokontrolle in Frankreich.

Die Inhalte werden von Professoren und Forschern der Université Côte d'Azur (UCAJEDI) und eingeladenen Experten in englischer Sprache vermittelt.

Die Studenten erwerben Erfahrungen in Teamarbeit durch die Durchführung von betreuten Team-Projekten unter berufsbezogenen Situationen: Forschungsprojekte, öffentlich-private Kooperationen, Gutachten, etc., zusätzlich zu langen Praktika (4 bis 6 Monate).

BOOST MSc profitiert von einer direkten Veknüpfung mit den schnell wachsenden Innovationssektoren für Biokontrolle, Biostimulanzien und Pflanzenzüchtung, dank einer weitreichenden Vernetzung mit institutionellen und privaten Partnern.
Stay connected with BOOST!