Monitoring of Substrate Colonization by Hyperspectral Camera
- P. Francour -

A hyperspectral camera to monitor the restoration of destructed marine habitats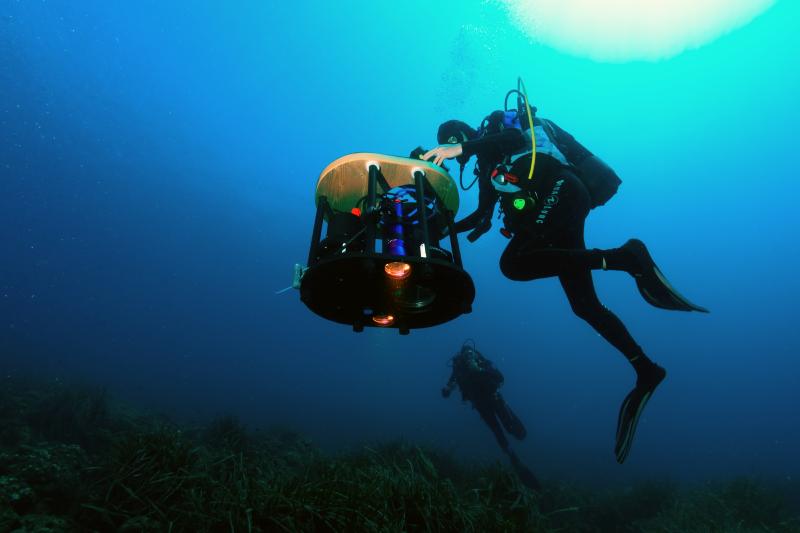 Academy 3 highlight
In the present context where anthropogenic activities dramatically alter many natural marine habitats, HYPER3D addresses a critical ecological question, i.e., whether hand-made and hence artificial marine habitats such as artificial reefs promote efficient re-colonization and restoration.
The project
Artificial reefs are now considered to be a valuable tool to restore destructed reef habitats. 3D printers allow artificial reefs to be built with a high three-dimensional complexity, which mimic the complexity of natural habitats. A successful restoration then supposes that the progressive colonization of the artificial reef has a food web organization and ecosystem functions close to those observed in natural habitats. Therefore, once installed, artificial reefs need to be monitored to make sure that the colonization operates in a natural way. In this project, we are developing and testing an innovative tool: a hyperspectral camera to monitor the very first stages of colonization and food web development (macrofouling). Each underwater species is indeed characterized by a unique set of multi-spectral colors that the human eye cannot accurately perceive, whereas a hyperspectral camera can record the entire spectrum from the visible to the invisible.
We acquired an underwater hyperspectral camera that was being developed by a start-up, Plan Blue (https://www.planblue.com/). We tested it in 2018 in the Larvotto marine protected area (Monaco), conducting the first hyperspectral camera analysis in the Mediterranean Sea. The preliminary results revealed the large spectral diversity in the protected area, which we interpret as a valuable proxy for its species richness. The individual species identification was more difficult however, calling for further improvement of the camera to succeed discriminating the individual signals. We are therefore in the process of guiding the improvement of the camera to make it more sensitive to individual species. Meanwhile, total spectral diversity can now be used as a valuable proxy to monitor the growing colonization of artificial reefs.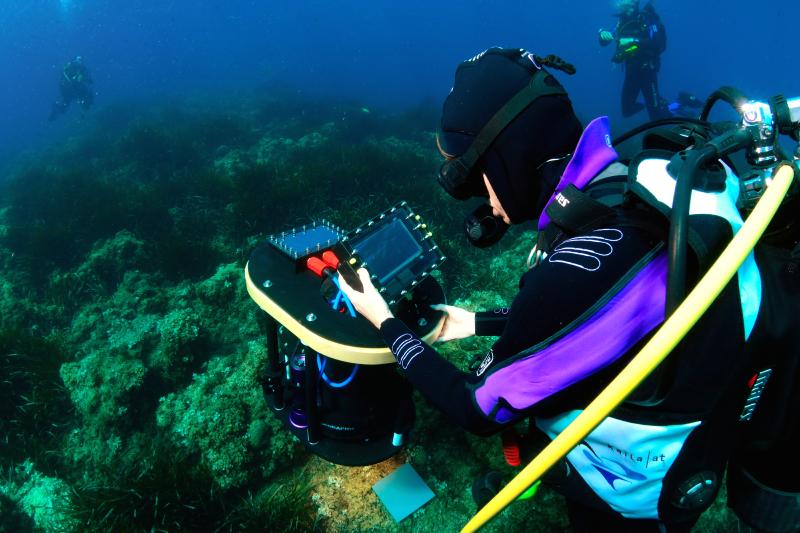 The +
The main strength of this project is the development of a new underwater hyperspectral camera for ecological monitoring. Should we be able to improve its ability to discriminate individual species, such a camera could be a valuable tool for monitoring the ecological restoration of artificial habitats, and for health surveys of natural habitats.
What's next?
The camera we used in this project was a prototype. The start-up, Plan Blue, is now building a new version, based on our guiding following our preliminary 2018 results. We are planning to test the improved version of the camera in 2020. We anticipate that it will be an efficient tool for monitoring substrate colonization.
Project information
Scientific domain
Marine Ecology


Theme

Habitat Restoration; Habitat Monitoring

Key words

Habitat Restoration

Benthic Assemblage Monitoring

Species Diversity

Hyperspectral Camera Spectral Diversity

Total budget

Students inolved

RIERA Elisabeth PhD 2017-2019; Post-Doc 2020


Partner laboratories

PlanBlue

Association Monégasque pour la Protection de la Nature (AMPN)

Fondation Prince Albert II de Monaco


International collaboration

PlanBlue GmbH. Bremen Innovation and Technology Center. Fahrenheitstrasse 1. 28359 Bremen, Germany

Project members

FRANCOUR Patrice

RIERA Elisabeth

den HAAN Joost

GAUTIER-DEBERNARDI Jacqueline

HUBAS Cédric