The instructors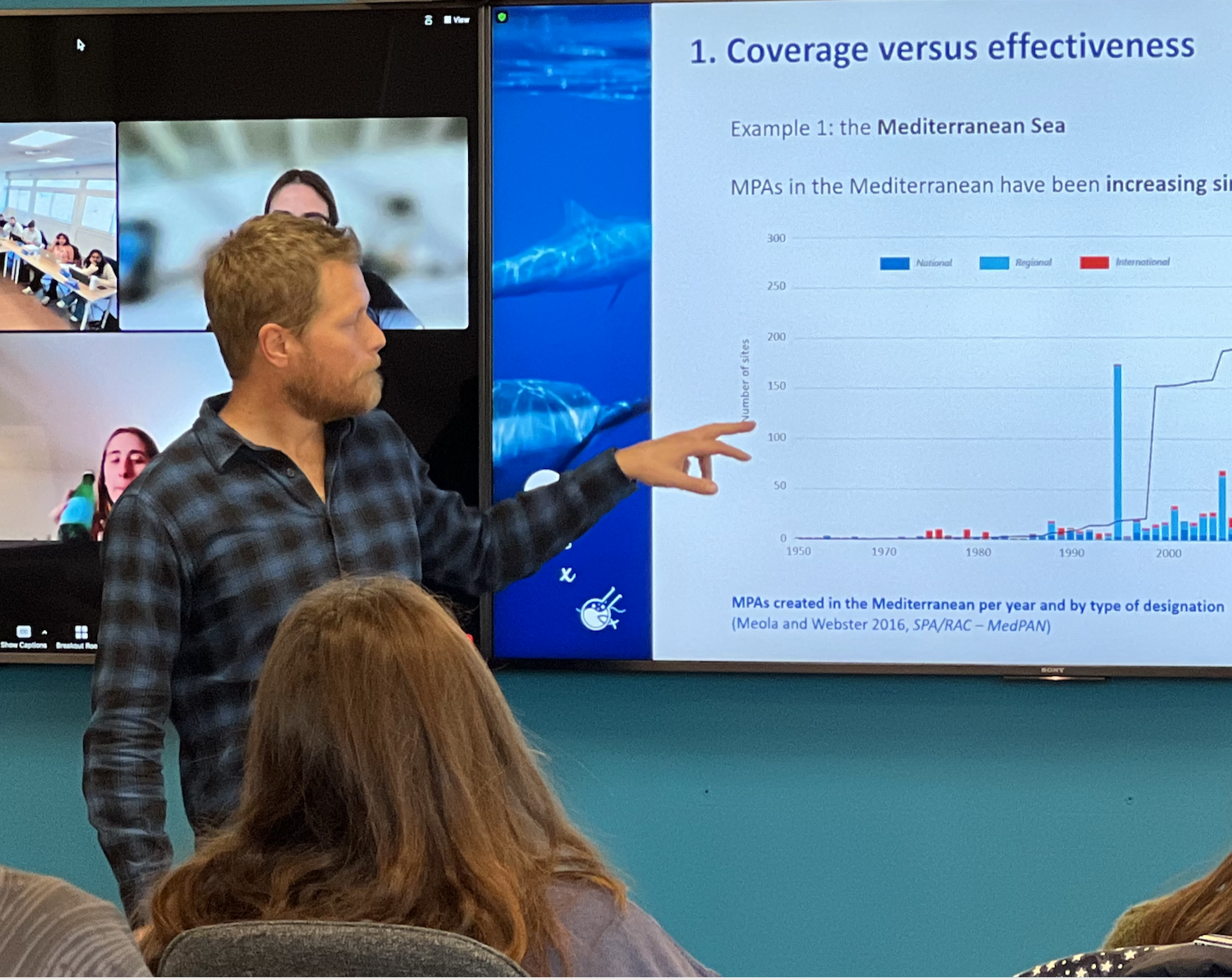 A large part of the MARRES program instructors are professors and researchers at Université Côte d'Azur, within the Marine Resource Research Institute, which brings together all the teams working on the sea at UCA (ecology, biology, chemistry, law and economics), as well as from other French and international universities.

Numerous experts from the private sector complement this academic experience, particularly in the socio-economic fields of conservation, innovation and entrepreneurship.
Our hybrid teaching strategy
Our teaching modules are generally designed following a blended-learning approach articulated in learning blocks allowing students to prepare for their face-to-face interactions with instructors through prior asynchronous work.
Learning blocks are composed of short video capsules, self-paced preparatory activities, and checkpoints for students to assess their learning progress.
Face-to-face interactions are thus reinforced and enriched by constructive exchanges in the form of recitation, workshops and discussions.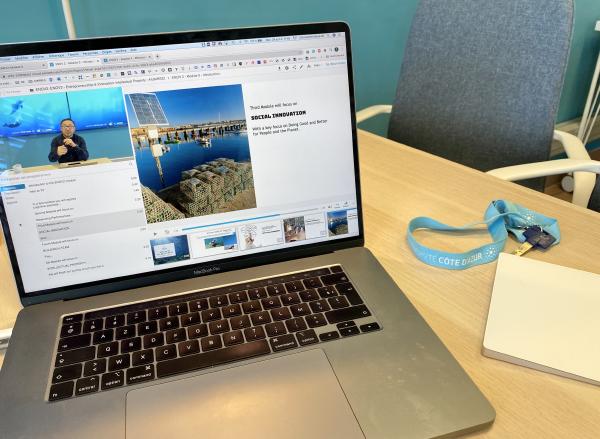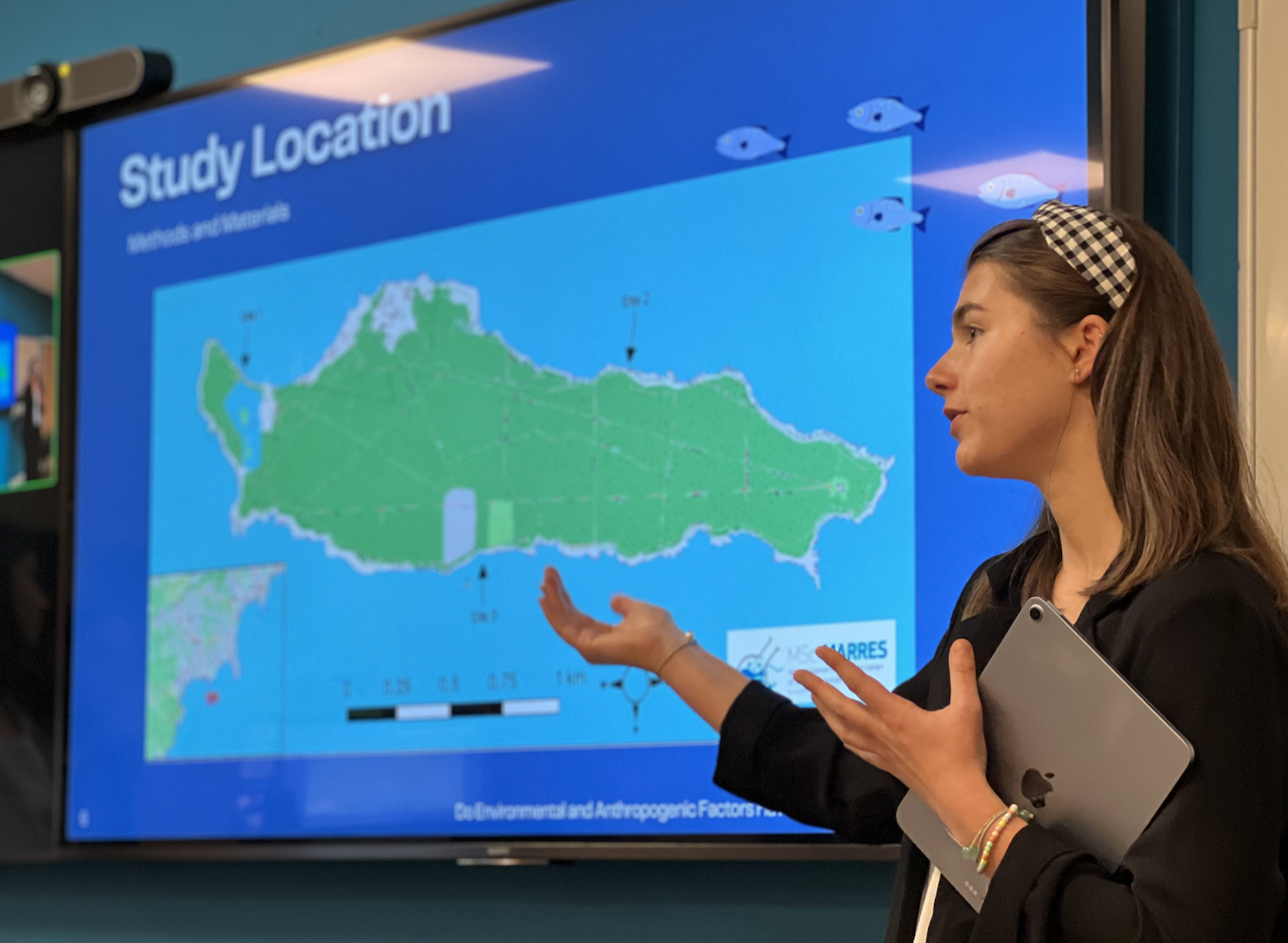 On campus
In the track "Science & Society", teachings take place in our dedicated facilities on the Sophia-Antipolis campus. Lecture and study rooms are available over a wide range of hours. Students have access to a modern learning center and a university restaurant. They can access grocery stores, bars and restaurants within a few minutes walk
Lecture rooms

Study & Lab rooms

Lucioles Building

Sophia Tech campus
Learn more about Sophia Antipolis


Sophia-Antipolis is a 2400Ha technology park situated on the protected forested hills dominating the French-riviera (20km from the Nice airport). It relies on the concept of cross-fertilisation between research, education and companies. It is home to 2,230 companies who employ 36,300 people representing 63 different nationalities, alongside 4500 researchers and 5500 students. (source : Municipality of Sophia Antipolis, 2016)
Outside from Sophia, lab works are generally performed in Nice (Valrose campus) and field trips lead students to the Lerins archipelago (Cannes), Villefranche-sur-Mer, Monaco and in the Var department.
Nice, Valrose campus

Cannes, Iles de Lerins

Monaco, Oceanographic Museum

Other locations


Villefranche-sur-Mer, Plankton party


Mandelieu, Thales Alenia Space site visit


Saint-Tropez, Harbor extension Impact assessment
Online
Whether in the fully online Blue Managers track, or for the asynchronous parts in the Science & Society track, our interactive digital tools are used to optimize the student learning experience.
E-learning platform

Like many other international universities, we have chosen Moodle as our primary e-learning platform. All our courses are fully deployed on there: all course documents, activities, video conference links, workshops, exams, grades...

All our other digital tools are aggregated on Moodle.

Video capsules

Whether you are a full-online student or also on-site, our video capsules are at the heart of the blended-learning approach of most MARRES modules. Lectures are usually taught via these short interactive videos, each corresponding to a key notion.

The Panopto platform allows you to navigate through these videos thanks to menus by slide, by topic, to search for key words, to adjust the size of the different windows, to take notes synchronized with the video, to engage in a discussion with the teacher and the students. Instructors can choose to directly insert external content such as videos and short quizzes.

Recitations

Before or after the video capsules, instructors can choose to test pre-knowledge or knowledge acquisition via a live exchange platform (on-site and online at the same time) using smartphones and tablets called Wooclap. For example, it can allow instructors to see which parts to review in priority during recitations (those face-to-face moments after a set of video capsules).

It also allows to create polls, to let students ask questions during presentations... and we also use it during our "MARRES Game Night".

Face-to-face

The video capsules do not replace the teacher, at the opposite they allow to better prepare for face-to-face discussions.

In the Science & Society track, these exchanges are done on-site as much as possible, but depending on local and international health conditions and on the needs of each participant, these exchanges can also take place via our video conferencing tools, mainly Zoom and BigBlueButton. This is the standard for the Blue Managers track.

Labs & Field trips

Field trips and labs are important moments in the students' learning path. For those who cannot join us on site for all these events, an online toolkit is available.

For example, the field trip to the Lérins Islands is partly digitized thanks to the Thinglink platform which allows students to immerse themselves in the archipelago. Aerial and submarine drone shots allow students to participate in the analysis of the results from a distance. We agree, nothing will replace being able to jump in the water, but we try to do our best.