Bienvenue à Université Côte d'Azur
Le Welcome Center est le point d'entrée des invités chercheurs, enseignants et doctorants internationaux à Université Côte d'Azur et ses partenaires. Il s'agit d'un service dédié à l'accueil et à l'accompagnement de ces derniers dans leurs démarches administratives.

Le Welcome Center informe, conseille et propose une aide personnalisée aux chercheurs, doctorants et enseignants à Université Côte d'Azur en amont et durant tout leur séjour sur la Côte d'Azur.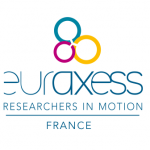 Membre du réseau
EURAXESS France
le Welcome Center est un des 45 centres EURAXESS en France. Pour profiter d'une assistance personnalisée avec vos démarches administratives
Welcome Center
Maison de l'Etudiant
5 ave François Mitterrand
06300 NICE
Informations et services pour vous aider avec votre installation sur la Côte d'Azur
Chiffres clés
+ de 480 chercheurs internationaux accueillis et accompagnés
+ de 6 500 services rendus aux chercheurs
+ de 1 600 séjours effectués au Faculty Club
Témoignages
Beatriz
Being welcomed by you, made things a lot easier. Thanks for all your support.
Lyes
Le Welcome Center nous a aidé à régler tous nos problèmes avec la préfecture, et nous a apporté une aide pratique et un soutien moral sans lesquels nous n'aurions pas pu avancer dans ce qui importe vraiment: nos travaux de thèse ! Merci !
Quang
Welcome Center has helped me a lot with housing and administrative procedures.
Liens utiles
Guides d'informations générales


Pour vous aider dans votre installation et vous faire profiter de bons conseils veuillez consulter également les sites suivants :

EURAXESS France est membre de l'initiative de la Commission européenne, le réseau européen EURAXESS, qui rassemble plus de 600 centres EURAXESS aidant les chercheurs internationaux dans 42 pays.

Vous trouverez sur ces pages les informations nécessaires pour les chercheurs en mobilité, et pourrez demander assistance auprès de notre réseau de centres de services. Si vous êtes à la recherche d'un post-doctorat ou d'un emploi de chercheur, rendez-vous sur notre section "postes à pourvoir".

Vous trouverez également sur ce portail les coordonnées de tous les centres Euraxess en France, ainsi que des informations relatives aux formalités d'entrée et de séjour sur le territoire français.

Consultez le guide d'accueil d'Université Côte d'Azur pour les étudiants internationaux. Campus France a décerné à Université Côte d'Azur le label "Bienvenue en France", 2 étoiles attestant ainsi de la qualité de l'accueil des étudiants internationaux.

Welcome Guide Côte d'Azur est une initiative conjointe de l'agence de promotion économique Team Côte d'Azur et d'Université Côte d'Azur.

Welcome Guide Côte d'Azur vous accompagne dans votre projet d'installation sur le territoire et vous communique des données administratives, économiques, touristiques, culturelles régionales actualisées. Welcome Guide Côte d'Azur vous fournit toutes les informations officielles dont vous avez besoin pour faire de votre séjour ou de votre installation un succès.

D'autres liens utiles

Trouvez d'autres informations utiles et connectez avec les réseaux locaux :


Doctorants à Université Côte d'Azur, rendez-vous sur les pages de

la maison des études doctorales - MED

pour tous vos questions relatives à vos études doctorales à Université Côte d'Azur.
L'association des doctorants à Université Côte d'Azur : AJC 06
Erasmus student network à Nice : ESN
Portail des Alumni d'Université Côte d'Azur
COVID-19 : Voyages internationaux vers la France
La situation de la pandémie COVD-19 évolue et les règles en vigueur peuvent changer et être adaptées régulièrement. Veuillez-donc vérifier avant votre départ pour la France que vous avez pris les précautions nécessaires et que vous êtes en possession des bons documents pour votre voyage vers la France.

Veuillez lire attentivement les informations du ministère de l'intérieur Français, de Campus France, du gouvernement Français et du ministère de l'Europe et des affaires étrangères à destination des voyageurs arrivant en France.

Il convient notamment de vérifier si selon votre pays de provenance une période d'isolation s'applique dans votre cas et si un test PCR négatif et un certificat de vaccination sont requis.